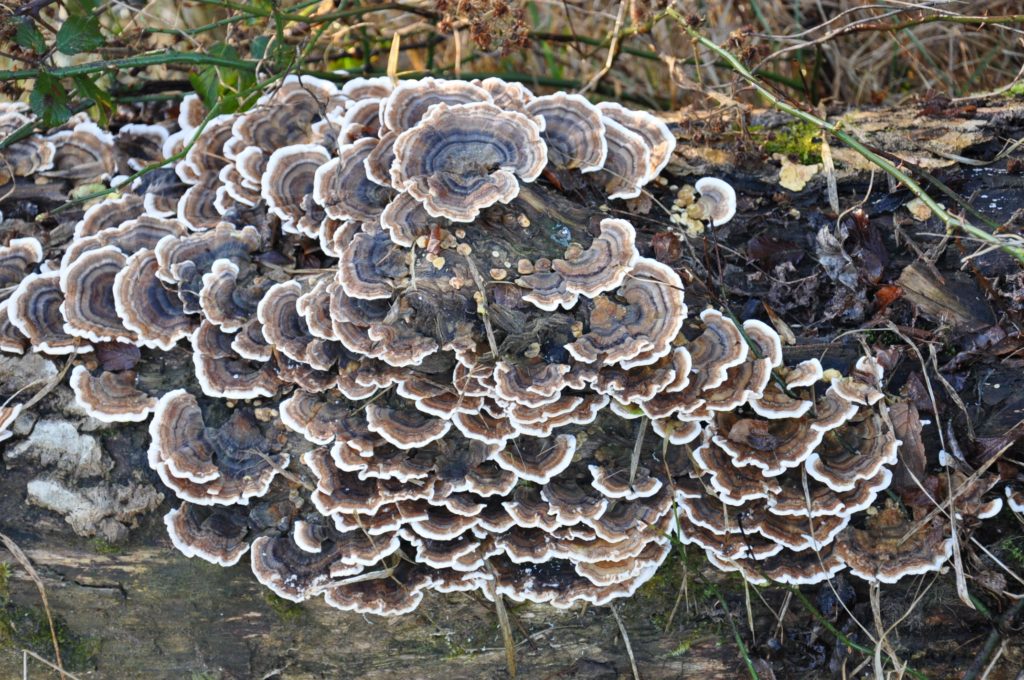 Coriolus versicolor, also known as Bolet à Couleurs Variées, Bolet Versicolore, Boletus versicolor, Champignon Coriolus, Champignon de Queue de Dinde, Coriolus, C. versicolor, Hongo Coriolus, Kawaratake, Krestin, Polypore à Couleurs Variées, Polypore Versicolor, Polyporus Versicolor, Polysaccharide-K, Polysaccharide Krestin, Polysaccharide Peptide, Polysaccharopeptide, Polystictus versicolor, PSK, PSP, VPS, Trametes versicolor, T. versicolor, Turkey Tail, Yun Zhi, Yun-Zhi, 云芝, 雲芝, is a mushroom of the Basidiomycetes class.
It was first used in China as a tonic dating back to the Ming Dynasty, in the 1300s, but recent studies suggest that it has immunestimulating and many other beneficial properties. It appears to work as a Biological Response Modifier, enhancing the body's own use of macrophages and T-lymphocytes, rather than directly attacking any undesired elements in the body. Polysaccharide-K (PSK) and Polysaccharidepeptide (PSP), are protein-bound polysaccharides derived from Coriolus versicolor, which was developed after centuries of collective research in Japan and China. Since its discovery, there have been hundreds of scientific and clinical studies published demonstrating the potential benefits of the Coriolus versicolor.
Coriolus versicolor is one of the most widely studied supplements for it's immune building properties. It is good for all people including the elderly, the physically weak, those who are overworked and those who are undergoing chemotherapy or radiation therapy. There have been over 500 human studies world wide including over a dozen human based, randomized, doubleblinded controlled clinical, placebo trials and more than 400 scientific papers that have been published world wide regarding this amazing product. In a Queensland University of Technology research report, Coriolus versicolor has been found to be 100 percent effective in suppressing prostate tumor development in mice during early trials, new research shows.
MD Anderson Cancer Institute, the University of Texas states that PSP is a: "promising candidate for chemoprevention due to the multiple effects on the malignant process, limited side effects and safety of daily oral doses for extended periods of time." Sloan Kettering Cancer Institute of NY reported that the polysaccharopeptide of Coriolus versicolor appeared to improve survival rates in patients with gastric and colorectal cancers when used as an adjuvant.
Hartford Hospital, Connecticut reports, "It is thought that Coriolus extracts work by stimulating the body's own cancerfighting cells. PSK and PSP may also have cancer-preventive effects." The School of Pharmacy, University of Hong Kong states, "….The CV extract is likely to be valuable for the treatment of some forms of human leukemia." Loma Linda University: reports: "These results indicate that IL-2 and PSP can slow progression of H238 tumors and that the mechanisms of action may be related to their direct cytotoxic effects, as well to their immunomodulatory properties."
The results of a very important year long clinical trial examining the effects of mushroom supplementation in patients with Human Papillomavirus (HPV) were so impressive they were presented in 2008 at the 20th European Congress of Obstetrics and Gynocology. Dr. Silva Couto and his research team found that Coriolus versicolor supplementation over the period of one year substantially increased regression of dysplasia and induced clearance of the high-risk subtypes of the HPV responsible for cervical cancer. Coriolus supplementation demonstrated a 72 percent regression rate in lesions compared to 47.5 percent without supplementation, and a 90 percent regression rate in the high risk HPV virus sub-types compared to 8.5 percent without.
We believe the best place to buy Yunzhi as a dietary supplement is Mushroom Remedy.

According to the results of these clinical and research studies, Coriolus versicolor may be used to improve your health from the following conditions:
Autoimmune Disease
Bronchitis
Colitis
Herpes
Human Papillomavirus (HPV)
Leukemia
Cancer treatment

Prostate Cancer
Breast Cancer
Bronchogenic Carcinoma
Cervical Cancer
Colon Cancer
Colorectal Cancer
Esophageal Cancer
Gastric Cancer
Primary Hepatocellular Carcinoma
Liver Cancer
Lung Cancer
Nasopharyngeal cancer
Oesophageal Cancer

Chronic Fatigue Syndrome
Diabetes
Fibromyalgia
Hepatitis
High Blood Pressure
High-grade Squamous Intraepithelial lesion (HSIL)
HIV Virus
Inflammatory
Infections – include:

Skin infections, including impetigo
Urinary tract infections
Digestive tract infections

Lung disorders
Lymphoma
Melanoma
Non-Hodgkin Lymphoma (NHL)
Poor appetite
Primary Biliary Cirrhosis (PBC)
Ringworm
Scleroderma
Septic shock
Tumor
Ulcerative Colitis
Allergy
Asthma
Other Coriolus versicolor benefits:
Immunomodulator
Immunostimulation
Boosting the immune system
Increase strength and stamina
Cancer prevention
Reduce chemotherapy side effects
Reduce Radiation therapy side effects
Potential Side effects of Coriolus versicolor:
In very rare cases – passage of dark colored stools or darkening of fingernails
No other known reported side effects

Coriolus versicolor References:
Science Daily: https://www.sciencedaily.com/releases/2011/05/110523091539.htm
Natural News: http://www.naturalnews.com/025455.html
Medical News Today: http://www.medicalnewstoday.com/releases/105573.php
U.S. National Library of Medicine: https://www.ncbi.nlm.nih.gov/pubmed/25784670
Sloan Kettering Cancer Institute: https://www.mskcc.org/cancer-care/integrative-medicine/herbs/coriolus-versicolor
WebMD: http://www.webmd.com/vitamins-supplements/ingredientmono-648-CORIOLUS%20MUSHROOM.aspx?activeIngredientId=648&activeIngredientName=CORIOLUS%20MUSHROOM
Best Place to Buy Yunzhi or Coriolus versicolor:
Mushroom Remedy: https://mushroomremedy.com/product/pro-immune-gold/

Piotrowski J, Jędrzejewski T, Kozak W Abstract Modern medicine successfully uses multiple immunomodulators of natural origin, that can affect biological reactions and support body's natural […]
Posted in
Appetite
,
Cancer
,
Chemotherapy
,
Fatigue
,
Immune
,
Tumor
,
Yunzhi
| Tagged
antitumor
,
cancer
,
chemotherapy
,
Coriolus versicolor
,
fatigue
,
immune
,
immune system
,
immunomodulator
,
loss of appetite
,
nausea
,
pain
,
polysaccharide Krestin
,
polysaccharidepeptide
,
PSK
,
PSP
,
vomiting
| Comments Off on Immunomodulatory and antitumor properties of polysaccharide peptide (PSP)